This is the end of the designated help screen>
Structures referred to in problem #1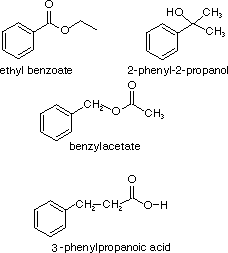 This is the end of the designated help screen>
Structures referred to in problem #2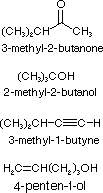 This is the end of the designated help screen>
Structures referred to in problem #3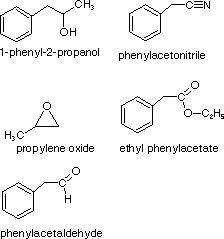 This is the end of the designated help screen>
Structures referred to in problem #1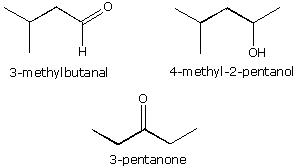 This is the end of the designated help screen>
Structures referred to in problem #3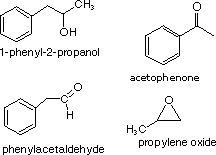 This is the end of the designated help screen>
Metal Hydride Reductions
Metal hydride reagents such as lithium aluminum hydride, LiAlH4, and sodium borohydride, NaBH4, are commonly used to reduce carbonyl compounds. Aldehydes give 1º-alcohols, whereas ketones give 2º-alcohols. Lithium aluminum hydride is much more reactive than sodium borohydride, the former is used in ether or THF solution, the latter in alcoholic solutions. Both reduce aldehydes and ketones, but only lithium aluminum hydride reduces esters and amides. Reaction of lithium aluminum hydride with esters gives two alcohols, a 1º-alcohol derived from the acid component of the ester, and the alcohol component (unchanged).

This is the end of the designated help screen>
Organometallic Reactions
Grignard reagents,RMgX, and organolithium reagents, RLi, are sources of strongly nucleophilic alkyl (and aryl) groups. The R- group bonds to reactive electrophilic sites, such as the carbonyl carbon atoms in aldehydes, ketones and esters, as well as epoxide carbons. Thus, aldehydes are found to give 2º alcohol products, and ketones yield 3º alcohols. Esters generally add two equivalents of such reagents to give a 3º alcohol derived from the carboxylic acid component (the alcohol component is released unchanged). Due to their high angle strain, epoxides are opened by an Sn2 attack at the least hindered carbon atom.

This is the end of the designated help screen>
Hydration Reactions
Acid-catalyzed addition of water (hydration) is a common reaction. Addition to alkenes gives alcohols, and procedes by the Markovnikov Rule. Addition to alkynes gives an enol intermediate which immediately tautomerizes to its keto isomer. Addition to the carbonyl group of esters gives an intermediate which immediately breaks down to the carboxylic acid and alcohol components of the ester.

This is the end of the designated help screen>