Chemistry of Vision
Many important biological processes are triggered by light signals. One such trigger, found in different species such as mammals, plants and bacteria, is the cis/trans-isomerization of a C=C bond. For example, the primary photoswitch for mammalian vision is cis-trans isomerization of retinal, derived from vitamin A, when bound to proteins known as opsins. The following diagram shows the overall event. Rhodopsin, a protonated Schiff base or imine formed from 11-cis-retinal and a lysine primary amine in opsin, is isomerized to the all-trans configuration of the chromophore. This photoisomerization induces a series of conformational changes in the chromophore and the opsin protein, resulting in an enzymatic cascade and the generation of an optic nerve impulse. The all trans-retinal is then liberated, and through a number of enzymatic reactions 11-cis-retinal is regenerated and bound to the opsin.
In some fresh water fish and amphibians a 3,4-dehydroretinal version of rhodopsin, called porphyropsin, serves as a similar light trigger. Because of the added conjugation, this chromophore absorbs longer-wavelength (red-shifted) light. A 9-cis isomer of rhodopsin, known as isorhodopsin, functions in a similar manner to rhodopsin if the 11-cis form is not available.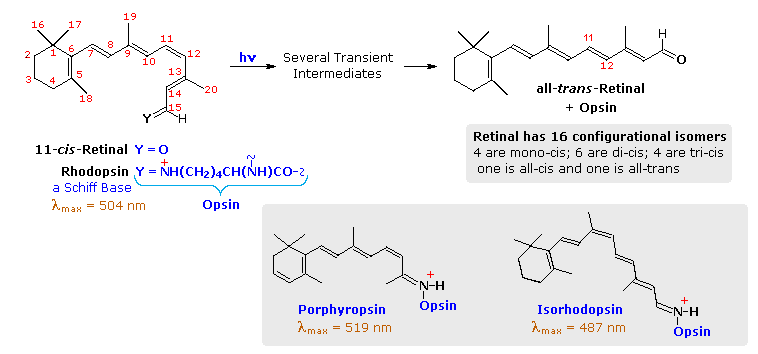 Time-resolved absorption experiments have shown that the cis-trans isomerization of the rhodopsin chromophore is complete in only 200 fs (a femtosecond is 10-15 second). The initial product, called photorhodopsin, is believed to be a hot, conformationally distorted form of the trans chromophore, which relaxes to bathorhodopsin in ca. 5 ps (a picosecond is 10-12 second). These events will be displayed above by clicking on the diagram. Bathorhodopsin has been studied extensively because it is the first intermediate that can be trapped at 77 ºK. Because the hydrophobic pocket holding the retinal chromophore restricts its conformational motion, the isomerization to bathorhodopsin is thought to take place by a hula-twist of the C12–H group. Resonance Raman studies of vibrational modes in rhodopsin and bathorhodopsin suggest that conformational distortion drives subsequent protein conformational changes. Later intermediates in the rhodopsin cascade have also been characterized, as shown in the redrawn diagram. Structures for many of these intermediates have yet to be determined.
To examine molecular models of modified rhodopsin and metarhodopsin Click Here.
Color perception in humans and primates is achieved by color receptors containing pigments with different light absorption characteristics. Trichromats, like humans, have trichromatic color vision resulting from three types of color receptors, known as cone cells. Many other mammals, including some primates, are dichromats, and have little or no color vision. Opsin proteins, differing in a few amino acids, absorb light at different wavelengths as retinal-bound pigments. The cones of the human eye are maximally receptive to short (S), medium (M), and long (L) wavelengths of light. Although L-cones are often referred to as red receptors, spectrophotometry has shown that their peak sensitivity is in the yellow region of the spectrum. Three different iodopsins (rhodopsin analogs) form the protein-pigment complexes photopsin I (L-cones), II (M-cones), and III (S-cones). These photopsins have absorption maxima for yellowish-green (photopsin I, 500–700 nm), green (photopsin II, 450–630 nm), and bluish-violet light (photopsin III, 400–500 nm). It is these differences that produce the remarkable color distinction that we enjoy.