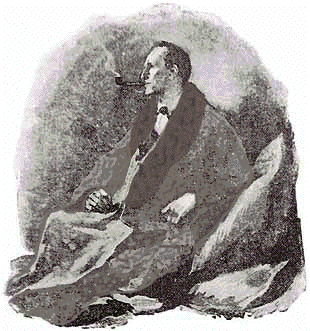 The Greek Interpreters, America's pioneer academic scion and the oldest in Michigan, was founded at Michigan State College on April 16, 1945 by a small group of student devotees, guided and inspired by Professor Robert P. Adams (English Literature) and Page Heldenbrand. They chose their name to fit the College's "Spartan" appellation, and duly reported an account of the founding meeting to The Baker Street Journal*. Evidence of their enthusiasm and creativity rests with a pastiche titled, "The Singular Affair of Mr. Phillip Phot", written by the founding group and also published in The Baker Street Journal**. A copy of this tale may be seen by clicking the designated button above. Other buttons provide additional information about the scion, including a more detailed history.
During the ensuing years, the College became a University and the vigor of the Greek Interpreters has waxed and waned with the coming and going of active members. The scion enjoyed a two decade renaissance under the leadership of Professor Donald Yates (Melas), but suffered a grevious loss when Melas departed for California in the early 1980's to found the Napa Valley Napoleons. Fortunately, he has provided us with a personal memoir of his life as a Baker Street Irregular. Presently, The Greek Interpreters are ably guided by Howard Brody, Shari Conroy and Charles Press, with special motivation and mental stimulation provided by the challenging quizes created by Etta Abrahams. Etta recently left our ranks for life in Maine, and Bill Reusch has assumed the quiz maker role. Archives of many past meetings and quizes are available here.
* The Baker Street Journal (Old Series) Volume 1, Number 3, September, 1946.
** The Baker Street Journal (Old Series) Volume 2, Number 1, March, 1947.