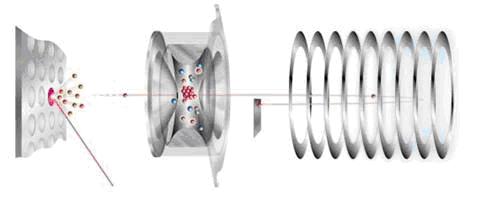 ---

Required Text: J. Throck Watson and O. David Sparkman. "Introduction to Mass Spectrometry: Instrumentation, Applications, and Strategies for Data Interpretation", 4th Edition, Wiley, 2007.
<![if !supportLineBreakNewLine]>
<![endif]>
Other recommended Texts: De Hoffmann, E. and Stroobant, V. "Mass Spectrometry: Principles and Applications", 3rd Edition, Wiley-Interscience, New York, 2007.
Other course material will be given in handout form throughout the semester.
________________________________________________________________________
Course Outline: Development of an advanced understanding of the underlying principles of modern analytical mass spectrometry instrumentation and methods applied to the structural elucidation of biological molecules.
Prerequisites: It is assumed that students have prior general knowledge of mass spectrometry, equivalent to that covered in the mass spectrometry module of CEM 835, and in Chapter 11 and Chapter 20 of Skoog, Holler and Crouch, Principles of Instrumental Analysis, 6th Edition, Thomson Brooks/Cole Publishers, 2007.
---
Scheduled Class Times: Tuesday and Thursday - 12.40pm - 2.00pm
Room: 183 Chemistry
---
Instructor: Associate Professor Gavin E. Reid
Office: 229 Chemistry Building
Phone: (517) 355-9715 ext.198
E-mail:reid@chemistry.msu.edu
Instructor Office hours: Room 229 Chemistry, Tuesday – 11.30am - 12.30pm, or by appointment
---

The Course Grade will be based on:
Homework / Other Assignments / Class presentations: – 35%
Mid Term Exam: Tuesday March 13th (in class) - 25%
Final Exam (comprehensive): Wednesday April 30th, 12.45 – 2.45pm – 40%
<![if !supportLineBreakNewLine]>
<![endif]>
Grading Scale:
The scale indicated below is based on the number of total points accrued being converted to a percentage of the total points available. These grade cut-offs may be relaxed by a small amount, at the instructor's discretion. In no event shall the grade levels be made more stringent than indicated below.
| | |
| --- | --- |
| Percentile score | Course grade |
| 90.0 – 100% | 4.0 |
| 80.0 – 89.9% | 3.5 |
| 70.0 – 79.9% | 3.0 |
| 65.0 – 69.9% | 2.5 |
| 60.0 – 64.9% | 2.0 |
| 55.0 – 59.9% | 1.5 |
| 50.0 – 54.9% | 1.0 |
| < 50% | 0 |
Homework:
Homework assignments must be handed in by the end of class on the due date. Unless other arrangements have been made in advance with the instructor, a 15% grade reduction will be given for each day that your homework is not handed in after the due date, up to a maximum of 3 days. After that time, a grade of 0 will be given.
Lecture Schedule:
Jan 7 – Jan 23            General Principles, Vacuum Systems, Sample Introduction, Detection Methods, Introduction/Overview of Ionization Methods
Jan 28 – Feb 6            Group Presentations Research/Preparation (no class)
Feb 11 and Feb 13      Group Presentations
Feb 13 – Mar 11          Mass Analyzers
                                  (Note: Feb 27 - no class, Mar 4 and 6 (Spring Break) - no class)
Mar 13                        Midterm Exam (in class)
Mar 18 – Mar 25         Tandem Mass Spectrometry
Mar 27 – Apr 1            Odd Electron Gas-Phase Fragmentation Reactions
Apr 3 – Apr 10            Individual Presentations Research/Preparation (no class)
Apr 15 – Apr 17           Even Electron Gas-Phase Fragmentation Reactions
Apr 22 – Apr 24           Individual Presentations– Literature
Apr 30                        Final Exam
---
Religious Observances / Other Absences from Class:
It is the responsibility of students who plan to be absent from class at certain times throughout the semester, due to religious holidays or other reasons, to make arrangements in advance with the instructor. Course notes or handouts may be obtained from the instructor if these conditions are met. If a make-up exam is required, the instructor retains the right to determine the content of the exam and the conditions of administration, giving due consideration to equitable treatment.
---
Academic Honesty:
Academic dishonesty at Michigan State University is defined by the General Student Regulations as conduct that violates the fundamental principles of truth, honesty, and integrity. The following conduct is specifically cited:
Cheating - Providing or accepting assistance with completing assignments or examinations, without proper authorization.
Plagiarism - Supplying or using work or answers that are not one's own, without proper citation.
Fabrication- Faking data or results.
Sabotage- Interfering through any means with another's academic work.
Deception- Providing false information - e.g., giving a false excuse for missing a deadline or falsely claiming to have submitted work.
Students share with the faculty a responsibility for maintaining the integrity of scholarship, grades, and professional standards. CEM 835 adheres to the policies on academic honesty specified in General Student Regulation 1.0, Protection of Scholarship and Grades; the all-University Policy on Integrity of Scholarship and Grades; and Ordinance 17.00, Examinations. (See Spartan Life: Student Handbook and Resource Guide and/or the MSU Web site www.msu.edu.)
Unless authorized by your instructor, you are expected to complete all course assignments, including homework, lab work, quizzes, tests and exams, without assistance from any source. You are expected to develop original work for this course; therefore, you may not submit course work you completed for another course to satisfy the requirements for this course. Also, you are not authorized to use the www.allmsu.com Web site or similar web sites to complete any course work in this course.
Students who violate these rules will be assigned a failing grade for the course.